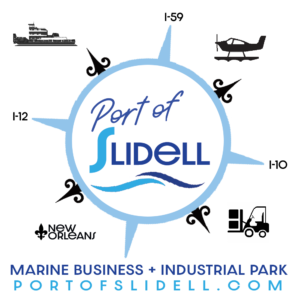 The Port of Slidell is a marine-centric intermodal Business and Industrial Park that provides client tenants whose business traverses the Gulf South safe, convenient, seamless, integrated logistical solutions that strategically link U.S. Gulf Coast waterways, rail, and air at the convergence of the three major interstate highway systems, I-10, I-12 and I-59, serving the greater New Orleans and U.S. Gulf Coast region.
We afford business and industry traversing the greater Gulf South a centrally located waterfront waypoint just 25± minutes from downtown New Orleans as a base-of-operations for marine-related construction and service companies transacting business along the greater Gulf Coast. From Houston to Jacksonville—from Jackson and Hattiesburg—from New Orleans—all commerce meets in Slidell. It's all here, roads, rail, airport, at the intersection of the region's waterways near the Gulf of Mexico.
When the Port of Slidell recently celebrated its 25th-year in operation, it marked this unique venue's importance as a major intermodal hub-of-operations for companies doing business in the Gulf South. We are pleased to serve as a base-of-operations for such global construction giants such as American Bridge and Safe Haven Enterprises. "The Port of Slidell is perfect for our construction projects and it has already greatly reduced the cost and improved the efficiencies and ease with which we do business in Louisiana," says Safe Haven Enterprises, President, Alta Baker.
Companies looking to locate their business operations to the greater New Orleans/Gulf Coast region will find unequaled opportunity in a safe—business-friendly environment that offers extreme ease of use and our Cajun food is second to none.
For information about locating to the business to the Port of Slidell, I invite you to contact me directly at (985) 250-3001.
Steven N. Siegler
Director, Port of Slidell